Green T Pest Alert: Boxelder Bugs
In Summer on October 28, 2016 at 8:50 pm | Written by admin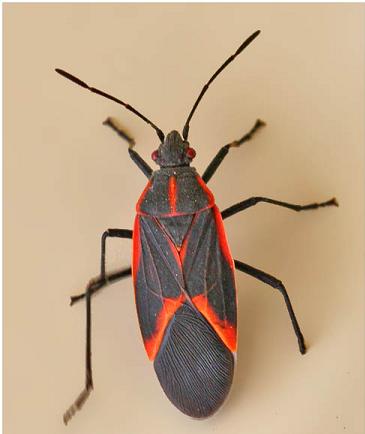 Boxelder bugs are common autumnal pests. These insects are about a half inch long with black bodies and red veining. They are commonly found on boxelder, maple, and ash trees. Though their appearance is recognizable many people know them as the bugs that smell bad after they are killed. Boxelder bugs release a pungent compound upon being disturbed. This is a defense tactic to discourage predation. Due to their excitement and congregation habits they are known as a nuisance pest. This simply means they are annoying but cause little to no harm or damage.
Boxelders are most commonly a nuisance during the cooler months of fall. This is because the pests are seeking warmth and protection from the impending winter weather. Boxelders enter a state of overwintering during these months. This means they will cease most activity but remain alive inside the walls of your home. When the heating system or you home kicks on, they may wrongly perceive that spring has arrived and begin to search your home for food.
Some at home methods for removing boxelders include:
Spraying insecticide: Insecticide is a great option for large congregations if insects outdoors. Insecticide is not a good method for indoor pests.
Vacuum them: Sucking the pests up is another option that is indoor-friendly.  Make sure you don't smash them since they'll release an odor that attracts more boxelders.
Use boxelder traps: These sticky traps catch boxelders in hard-to-reach places like ceilings and attics.
Seal their entrance point: The best way to prevent boxelders is to seal off any entrance points. This is most successful if performed before the weather becomes cool and they've already entered your home.
Call Green T: If you can't or don't want to remove the pests yourself, give us a call and we'll get them out!
Comment »